What is Periodontal Disease?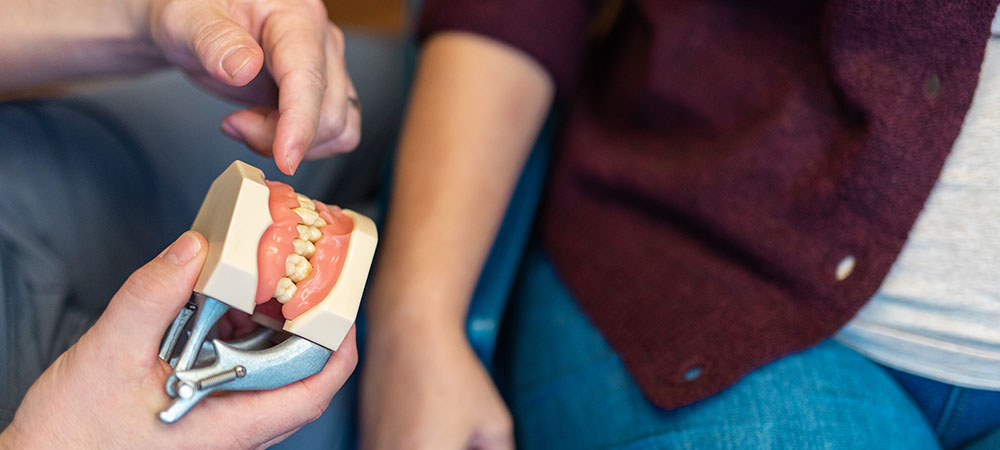 Periodontal (gum) disease is among the most prevalent of all diseases in the United States. Often referred to as a silent disease, many patients are unaware they have it until it has settled under their teeth and gum line. There are three stages to gum disease:
Gingivitis – This first stage often goes unnoticed. Symptoms may include inflamed gums, red or tender gums, or bleeding after brushing. Routine dental exams are the best way to catch this warning signs so instructions can be given to restore your gums health.
Periodontitis – In this second stage of gum disease, bacteria collects under the gum line and forms pockets between your teeth and soft tissue. Food, debris and disease accumulate here, damaging soft tissue. Once detected, Dr. Ficca will treat the area through scaling and planning to clean your gum and teeth and will have you come back more often for routine cleanings to prevent the progression of the disease.
Advanced Periodontitis – If gum disease is left alone, bacteria will sink further through your soft tissue and down to the jaw bone. Many patients in the third stage of gum disease may lose teeth, as infection continues to spread and affect neighboring areas.
At Metrolina Perio, our team of dental professionals is dedicated to maintaining healthy teeth and gums with the gentle care you deserve. Dr. Matthew Ficca specializes in periodontics, the field of dentistry that focuses on soft tissue and supporting oral structures. By providing gum disease therapy and treatment to his Charlotte patients, Dr. Ficca helps them regain control of their dental health and overall well-being.
Dr. Ficca focuses on restoring gum health through treatments that stop the progression of gum disease and rehabilitate the damaged area. Because gum disease can cause serious systemic health issues that extend beyond teeth and gums, periodontists and periodontal therapies are a crucial part of protecting your overall health.
---
Gum Disease Therapy
Gum disease is a treatable condition and, when caught early enough, the impact it has on dental health can even be reversed. However, when left untreated, periodontal disease can wreak havoc on a patient's overall wellbeing.
Dr. Ficca treats gum problems as conservatively as possible to get the best results. In addition to regular professional dental cleanings, we offer the following services:
Antibiotics – Depending on the patient's needs, we can help fight infection and disease with antibiotics.
Regenerative Therapy – Gum tissue and bone that have been diminished as a result of periodontal disease can be replaced through gum and bone grafting. Gum grafting covers exposed tooth roots and bone grafting works to increase bone density for a stronger, healthier foundation of oral health.
Cosmetic Gum Procedures – these procedures address the appearance of the gum line as well as its health. Once your gum health has been restored, Dr. Ficca can work to improve the appearance to give you a more aesthetic smile. Crown lengthening is an example of a cosmetic procedure that elongates teeth and provides aesthetic balance for people with a gummy smile or short teeth.